Howdy Ags,
If you have "liked" our Facebook page so you can stay up to date with our posts, you have likely seen a HUGE decrease in your newsfeed over the past month or more. That is because Facebook's algorithm has changed dramatically and isn't showing you our posts like they used to in your newsfeed.
We are asking everyone to go to our page Fb.com/wcamc and update their settings.

Computer:
Go to our page: Fb.com/wcamc
Click: Following dropdown
Click: "See First" & "On"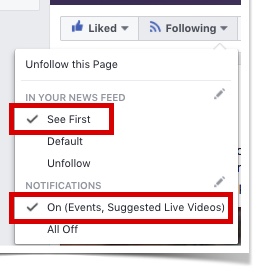 Mobile:
Search for our page: wcamc
Select our page from the search results. Then select the "Follow" icon. Turn on "Get Notifications" and select "See First". Then go into your "Edit Notifications Settings" and select/check the "Posts", "Events" & "Suggested" options.