Weekly Newsletter
Howdy Aggies,
Hats off to Coach G and the soccer team as they have once again made it into the Elite 8 and will make a run at another title. Very exciting and a huge stride for the team considering how many seniors graduated and the number of under classman are on the squad. They have a rough road ahead but have defeated North Carolina and had a huge win against Ole Miss that came down to penalty kicks.
Things have kicked off on the hardwood and basketball season is getting ready to start in full swing. Be sure to catch the men's and women's programs as there will be some exciting games this year. The men will have a rough Thanksgiving as they will be in the Bahamas for a tournament. They will be playing the t-sips while there so let's hope they come out with a win. Both the programs have started off well and could be an exciting year.
On a final note, the volleyball team has won twelve straight and ranked nationally. Hitting their stride at the right time as we near the end of the season and begin a hunt for a national championship run.
GEORGETOWN SENIOR SIGNS WITH AGGIE VOLLEYBALL
Congratulation to Maddie Douglas from Georgetown High School. She signed her letter of intent to play volleyball for Coach Corbelli and the Texas Aggies. Maddie has played on the varsity squad at Georgetown for three years and has set a number of school record in that time. Pictured below with Maddie are her mother and father, Trish and Nathan.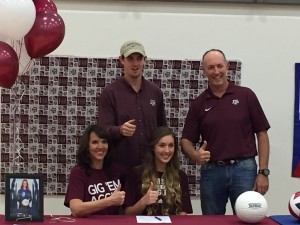 WCAMC BOARD OPENINGS
As the end of the year approaches we begin the process of transitioning our club officers and a few of our board members. If you are interested in getting more involved and serving in some capacity please reach out and let us know. We will have a board meeting in December in order to purpose a slate of nominees for the entire club to vote on at our annual meeting early in 2016. It is everyone's club and we would certainly appreciate input from all members.
SAVE THE DATE, 9 DECEMBER – AUSTIN SEC CLUB EVENT
We have reserved NXNW on Stonelake in north Austin for the Holiday Party on December 9th, beginning at 6PM. We are happy to announce that we will once again be benefiting Toys for Tots/US Marines at this event. As an update, we have been informed by the US Marines that their request for assistance already exceeds that of last year. Your help could make a huge difference for a family this year. We have a few items for the raffle, however, we need your help in making the raffle a success! For every toy you bring you will receive one raffle ticket for some great prizes. If you or your company would like to be recognized please consider a small gift basket or gift certificate for the event. https://www.facebook.com/events/816739778436983/
Thanks everyone and looking forward to this fun and charitable event!
WEEKLY EVENTS
Nest week takes us into December and we will have our regular slate of events along with the SEC Holiday Party. We will kick off the month with our Reveille Breakfast at Rudy's on Thursday 3 December. We will then have our Family Night at Double Dave's on Thursday 10 December. Our networking luncheon on the next Thursday 17 December will be held at One of our most popular venues, Tortuga Flats. Be sure to sign up for text notifications for all of our events, send us a text to be added 512-887-2247.  This is a great feature to remind you about all of our events.
Gig'Em,
David A. Johnson '87
WCAMC President
president@wcamc.com
FEATURED NEWSLETTER SPONSOR
Joshua Swafford '08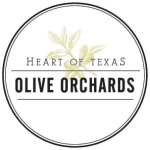 Silver Taps Notice
Amber Nicole Gillespie, born March 6, 1985, Las Cruces, NM, went to her eternal rest November 17, 2015. Amber is many things to many people, but she is a light to all she encountered.
Amber grew up in New Mexico and moved to San Antonio, TX in 1996. She went on to become a member of the Fightin' Texas Aggie Class of 2007.
Amber is survived by her parents, Dwight and Amy Gillespie of San Antonio; sister, Jennifer Franz (Ricky) and her most beloved niece, Kenna Lily Nicole of Georgetown, TX; as well as numerous aunts, uncles and cousins. She leaves behind her cherished dogs, Shiloh and Bailey. She is predeceased by her grandparents, as well as several aunts and uncles.