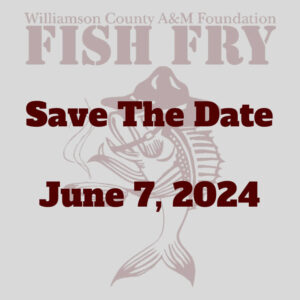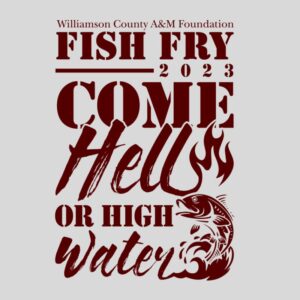 Howdy Ags!
Are y'all ready?  We certainly are!  We are so excited to be able to host Fish Fry again and have all of y'all gather together as our Aggie Family should.
2023 will be our 28th Anniversary of the Williamson County A&M Foundation's scholarship Fish Fry dinner and silent auction.  Our WilCo A&M Foundation only has one goal, to help more local youth to attend our beloved Texas A&M University!  So, get ready, invite your friends and neighbors and join us on the 2nd of June.
Individual meal tickets will be available for purchase as well as personal and business sponsorship opportunities.
As always we will have your favorite homemade desserts, a cash bar is planned, as well as a silent auction, and raffle items to win.
Date: 2 June 2023
Time: 5-8pm
Location: Georgetown Community Center
445 Morrow Street, Georgetown, TX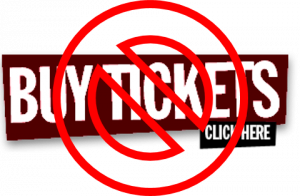 ---
Please Support Our 2023 Sponsors
Kyle Field $3000 (max 4)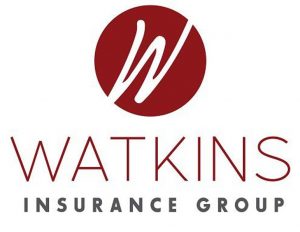 ---
Ol' Sarge $2000

---
Reveille $1000
Lisa Birkman '82, Elizabeth '16 & Ethan '16 Shires
---
Sul Ross $500
Lance and Gretchen Kroesch
Avery 

Buffington

 '99 & Christine Collins '97
Scott Feldman '85
Bruce '72 & Pat '72 Katt

---
Howdy $150
Acme & Mineral City Enterprises – Whiskey Barrel Pub – Berger N' Fries
Glen '80 & Nancy '80 Dishong – Judge Scott '92 & Melinda '91 Field
Joel "Randy" Woodley '75 – Mark Hovenkamp '74 – Hollin Haberman '85
Will Peckham IV '93 – Rockdale Coffee – Dennis '74 & Vivian Symank
Susan Hopper '90 and Wade Burton '90 – Rex '93 & Stacie '96 Bryan
Dale McQuine '66 – Ray '69 & Pat Armour – Bobby '80 & Anne '81 Cain
Terri Estes '78 – Jan Fambro '75 – Steve Summers '92 – Dahlia Cafe – Keith Chapman
Family Medical Center of Georgetown – Margaret "Peggy" Boehm '82 – Mike Grafton '66

---
Fish Fry Flyer

Silent Auction Donation Form