It's that time of year Ags!!!!  Let's huddle together to Yell on our Aggies on to victory as they BTHOeveryone this season.
We will be meeting out on the patio at Buffalo Wild Wings in Georgetown (map).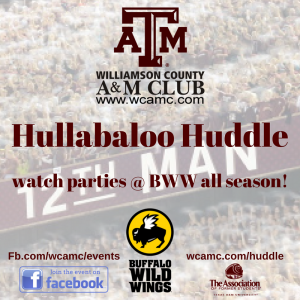 Come out and join us for a great Aggie Football Season.
Sun, Sep 3 @ UCLA 6:30 PM
Sat, Sep 9 vs Nicholls State 6:00 PM
Sat, Sep 16 vs LA-Lafayette 11:00 AM
Sat, Sep 23 vs Arkansas TBD
Sat, Sep 30 vs South Carolina TBD
Sat, Oct 7 vs Alabama TBD
Sat, Oct 14 @ Florida TBD
Sat, Oct 28 vs MS State TBD
Sat, Nov 4 vs Auburn TBD
Sat, Nov 11 vs New Mexico TBD
Sat, Nov 18 @ Mississippi TBD
Sat, Nov 25 @ LSU TBD
hul·la·ba·loo [huhl-uh-buh-loo]
noun, plural hul·la·ba·loos.
a clamorous noise or disturbance; uproar.
hud·dle [huhd-l]
verb, hud·dled, hud·dling, noun
to gather or crowd together in a close mass.
Send any location suggestions or feedback to GigEm@wcamc.com