Here is a summary of our A&M Club events.  Please see our event calendar or Facebook for the latest event updates and details.
Monthly Events:
First Thursday
Second Thursday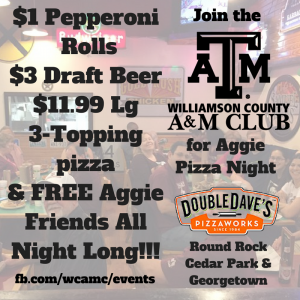 Third Thursday
Networking Lunch
Rotating locations *
Fourth Thursday
Howdy (Happy) Hour
Rotating locations *
* See rotating event locations on Facebook
(no Fb account needed to view)
Annual Events:
Muster – April 21st
Scholarship Fish Fry – late May or Early June
Location: Georgetown Community Center in San Gabriel Park
(click event page links for exact dates and details)
If you should have any suggestions or comments about our Club events, please contact us at (512) 8772-AGS or GigEm@wcamc.com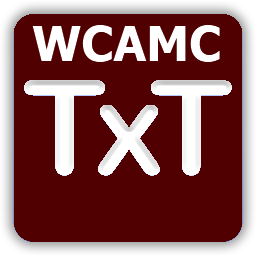 We are all very busy, so how would you like to receive a text message reminder about Club events ~24 hours prior to the event?
If you would like to signup just send us a text to (512) 8872-AGS (512-887-2247).