Weekly Newsletter
PRESIDENT'S CORNER
Howdy Aggies,
We are into May and while it may appear it is a slow month there is still plenty going on, both inside the A&M Club as well as around the area.
First off, plenty of Aggie sports, the baseball team, after a rough start against the 'little piggies' were able to pull off another series win over the weekend. While it was not always pretty, there are no pictures in the win column. The softball team managed to get a win off the #1 team in the country, the Florida Gators. Congratulations to the team for assisting in sending the seniors out with a win on "SENIOR" Sunday. In track & Field the men's team did what the men's team does, as they won the LSU Invitational over the weekend.
With May also comes the end of school, which always has a flurry of activity as well. The Corps of Cadets had their 40th Anniversary of March to the Brazos over the weekend. This has obviously been a long standing Corps tradition which serves two purposes, first and foremost to support the March of Dimes. As of this point the Corps has raised over $3,000,000.00 for this worthy cause. Second, it is the final journey for the seniors as they turn over the reins to the underclassmen. They make the journey out but ride buses back to campus. For those that are interested, the Corps will hold 'Final Review' this Saturday, 7 May on campus, as if you need another reason to make the trip over.
Locally, we will kick into full gear planning our annual FISH FRY. Please consider getting involved and assisting with our largest fundraiser as we work to continue supplying scholarships to local high school students headed to A&M. We have a meeting on Tuesday 10 May (details below) and this is open to everyone looking to assist in some way.
SCHOLARSHIP FEEDBACK
Dear WCAMC Scholarship Committee,
I am happy to report your scholarship paid off. My daughter, Casey Curry '11, was the inaugural recipient of the Pete and Nell Kauffman Scholarship from Liberty Hill in 2008. She went on to complete her Biomedical Science degree from TAMU in 2011 and began Medical School at TAMU in 2012.  Although she followed her Aggie husband to west Texas and will graduate with her Medical Degree from Texas Tech Health Science Center this May, we are still very proud Aggie parents.  We are told Casey is the first person born and raised in Liberty Hill to graduate from medical school.
In addition, Casey is also a new mom to Jameson Barrett, DOB 2/16/16, class of 2038.
Please pass this on to Jim Kauffman and the Scholarship committee as I do not have an email address.
I hope the Liberty Hill HS student selected this year goes on to do great things as well.
Patty Ganey-Curry '78 (and proud Aggie Mom)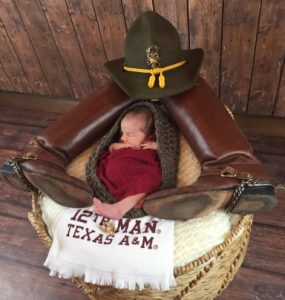 SEC KENTUCKY DERBY PARTY
AND THEY'RE OFF!!! Are you ready to dress up and watch 'The most exciting two minutes in sports'? Ladies wear your hat's, men get out your seersucker suits and come out to Blackfinn Ameripub at the Domain to celebrate the races with the Austin SEC Club. We will be giving out prizes for best dressed, best hat, raffle prizes and of course picking the winner.
There will food and drink specials to fit the spirit of the races. Next best thing to actually being there. No ticket sales but RSVP's are appreciated for proper planning.  www.facebook.com/events/985012824897464
Saturday 7 May
3:00-6:00PM
Blackfinn Ameripub
11410 Century Oaks (in The Domain)
Austin, TX
CCAMC PRESIDENTS NIGHT
You are invited to join the CCAMC for a reception welcoming our 25th President of Texas A&M University, Michael K Young. Additional details www.facebook.com/events/228932400803794
Monday 9 May '16
6:00-9:00 PM
W Hotel Austin
200 Lavaca St
Austin, TX 78701
FISH FRY MEETING
Please plan on joining us as we continue to plan for our scholarship fundraiser and 24th ANNUAL FISH FRY. We are always looking to get new members involved and this is a great way to jump in and impact our club as well as future Aggies. If you have a talent for coordinating and directing we need your help. This is an all hands on deck event and we look forward to you joining us.  www.facebook.com/events/837739393004232/
Tuesday 10 May
6:30-8:30PM
2423 Williams Dr, Georgetown, TX
ON THE HORIZON – SAVE THE DATE
CCAMC COACH'S NIGHT
Make plans now to attend this annual event, now in our own backyard. The CCAMC Coach's night will be moving to the Cedar Park Center. This is your opportunity to hear about the 2016 football season while assisting with scholarship fundraising to deserving Aggies.
Thursday 14 July
HEB Center at Cedar Park
WEEKLY EVENTS
We work hard to offer a variety of events in hopes that your schedule will allow you to join as often as possible. We realize everyone is busy but it is always good to take a little time for friends and expand your network. We will continue our 'THURSDAY' event schedule, but keep your eyes open for a few twist as we move through the year.
This week we will have our Reveille Breakfast at Rudy's in Round Rock. Be sure to leave for work a little early and meet some new folk's or say HOWDY to familiar faces. Good opportunity for a little Aggie speak and start your day off in a positive direction.  www.facebook.com/events/1629062907357915/
The following week we will have our Family Night @ Double Dave's. Remember, your now have 'DOUBLE' the opportunity to join us as we have a group at both the Round Rock and Cedar Park locations.
Round Rock: www.facebook.com/events/270508663289825/
Cedar Park: www.facebook.com/events/529412580575521/
Gig'Em,
David A. Johnson '87
WCAMC President
president@wcamc.com
FEATURED NEWSLETTER SPONSOR