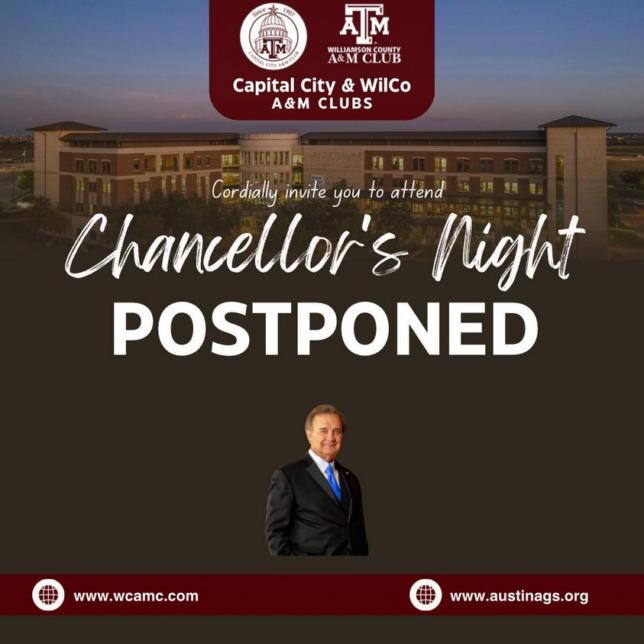 The Capital City & WilCo A&M Club's are excited to co-host an All-Aggie evening event with Chancellor Sharp on November 1 from 6-8PM. Come listen and engage with Chancellor Sharp as he shares the latest Texas A&M successes and future plans.
Meal included in event ticket purchase.
Catering provided by Aggie Owned The Granary in Jarrell
Brisket
Sausage
Turkey
Potato Salad
Green Beans
Pinto Beans
And all the fixin's!
Wine by the glass available for purchase by
Aggie Owned 12 Fires Winery & Vineyard.
Event Details:
Attire: Business Casual
5:00 pm Event Set-up
6:00 pm Doors open/check-in begins
6:15 pm Dinner buffet opens
6:50 pm Volunteers and Staff encourage guests to take their seats
7:00 pm Welcome – Logan Harrell '14
7:05 pm Invocation – Gwynn Ritchey '03
7:07 pm Dr. Amy Ware
7:10 pm Introduction of Chancellor
7:12 pm Chancellor Sharp
7:40 pm Q&A
7:55 pm Aggie War Hymn
7:58 pm Closing – Miike Howell '88