Weekly Newsletter
Howdy Ags,
2015 is drawing to an end and all of us on the board would like to wish everyone a Merry Christmas. As we enter 2016 we will continue to work towards providing our members with opportunities to socialize with Aggies and in enlarge their network. The club is always open to suggestions as to how we can meet our members needs and welcome suggestions as well as volunteers.
We will have our annual meeting in January and would like to have good attendance as we move forward with new officers. We may continue a few watch parties for basketball, particularly as the March Madness approaches. Of course we will have Aggie Muster April 21, 2016 and our annual Fish Fry June 10, 2016. In addition to providing scholarships for local students we would also like to provide an avenue for the Aggie community to stay strong and vibrant in Williamson County.
As my two year term as club president draws to a close I want to thank everyone for their support and efforts to keep the club moving in a positive direction. As the county has exploded in size it has presented some challenges which we have worked toward overcoming to the best of our ability. I hope I was able to keep some of the momentum from our past presidents and strengthen the foundation for those to come. Working to keep the Aggie Spirit burning bright just outside the confines of the 'burnt orange curtain' to the south.
HULLABALOO HUDDLE
If you are not planning on traveling to Nashville for New Years and the bowl game then make plans to join fellow Aggies for our watch party at George's. Come out and support the Aggies as well as the Georgetown local, Jake Hubanek as the Aggies take on Louisville in the Music City Bowl. The patio, as well as the bar, will be full of Ags and heighten the atmosphere as opposed to sitting at home. The Chef is working on something special out of the kitchen and it will be perfect for watching the Aggies BTHO Louisville!

Singing Cadets, Presented by Austin Aggie Moms – 1/16/16
The Austin Aggie Moms are once again bringing the world famous Singing Cadets to Austin on January 16th, 2016 at 6pm at Riverbend Centre.
Tickets for the event will be available at the door or can be purchased in advance. We encourage you to get your ticket early to ensure you will have a seat!
Funds raised support scholarships for deserving local students to attend Texas A&M.
Riverbend Centre
4214 North Capital of Texas Highway
Austin, TX 78746
WCAMC BOARD OPENINGS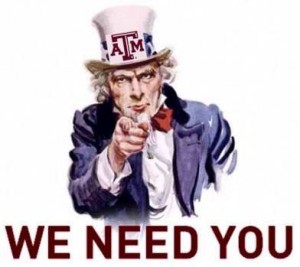 As the end of the year approaches we begin the process of transitioning our club officers and a few of our board members. If you are interested in getting more involved and serving in some capacity please reach out and let us know. We will have a board meeting in December in order to purpose a slate of nominees for the entire club to vote on at our annual meeting early in 2016. It is everyone's club and we would certainly appreciate input from all members.
WEEKLY EVENTS
Start the year off on the right foot by joining fellow Aggies at Rudy's for our Reveille Breakfast, Thursday 7 January. We usually gather around 6:45 and wrap up at your convenience. A great way to start the day with breakfast and fellowship, a good networking opportunity as well. We will then have our Family Night at Double Dave's on Thursday 15 January. Still one of our best monthly events so come join the crowd. Our networking luncheon on Thursday 22 January will be held at 620 Cafe. Home-style options with another opportunity to network. Our final event of the month will be our annual club meeting to elect new officers. Event is still TBD but please put it on your calendars as we would like to see a good turnout. Be sure to sign up for text notifications for all of our events. This is a great feature to remind you about all of our events. 512-887-2247
Certainly hope you and your families have a very Merry Christmas and Happy New Year!
Gig'em & God Bless,
FEATURED NEWSLETTER SPONSOR