Weekly Newsletter
Howdy Ags,
I would like to thank all of our current and new members that attended our annual membership meeting. Many thanks to Shuler Page '71 and his staff at Gumbo's North for hosting our meeting. I would also like to thank Patrick McGinty '15 from the Association of Former Students. Patrick is the new A&M Club Representative for the Assocation and joined us for the evening. He assured us he would be back for the Fish Fry and is willing to step in where Scott Jarvis left off battering fish and pitch in to help the club. We successfully elected a new slate of officers and board members who will continue to move the club in a positive direction. Certainly appreciate the individuals who stepped up to volunteer their time and talents to the club over the next two years. There are new and old faces so we can keep some consistency while bringing new ideas and energy into the club. Please remember we are here to serve the members and create a friendly environment for fun and networking so we are always open and receptive to your ideas.
COMMITTEE CHAIR OPENINGS
While we are very excited to have new members involved with the club we still have several positions available if you would like to get involved.
Current Committee Chair Openings include:
+ Networking Lunch Coordinator
+ Howdy Hour Coordinator
+ Big Event Coordinator
+ Advertising Coordinator
SCHOLARSHIP APPLICATIONS
It is that time of year for high school seniors to begin applying for scholarships. As A&M continues its admittance procedures, keep in mind that our WCAMFoundation scholarship application is available online. While we have attempted to make sure that all Williamson County High Schools have access to the applications, we would also like to remind you that the application is available on our website; wcamc.aggienetwork.com/scholarships
Please keep in mind that the deadline for receiving applications is 1 APRIL '16
MUSTER COMMITTEE MEETING
As we are already into February, April will certainly be here before you know it. While we have a fair amount of the planning done for this years Muster there is still plenty to do and opportunities to get involved. this years Muster Chairman Abby Williford '06 will have a Muster Committee meeting on Thursday 11 Feb at Double Dave's in Round Rock. This is the same location as our monthly family night so come out and join us for a bite to eat and stay for the meeting scheduled to begin at 7PM. Sub-committee chairs are still needed for check-in, decorations, food and a possible co-chair working towards next years event,
ROUND ROCK AREA AGGIE MOM's CLUB EVENT
The RRAAMC would like to invite everyone to their annual Anniversary Dinner & Silent Auction on Saturday March 5, 2016 @ 6:30PM, benefiting their student scholarship program. Tickets are $20 for a night of dinner, entertainment, silent auction and must be purchased by 29 Feb. The event will be held at the Allen R Baca Center located at 301 W Bagdad in Round Rock. For additional information contact Melanie Busby: melanie.busby@twc.state.tx.us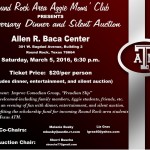 WEEKLY EVENTS
We work hard to offer a variety of events in hopes that your schedule will allow you to join as often as possible. We realize everyone is busy but it is always good to take a little time for friends and expand your Aggie Network. We will continue our 'THURSDAY' event schedule, but keep your eyes open for a few twist as we move through the year.
This week we will gather at Rudy's on Thursday morning, 4 Feb for our Reveille Breakfast. As it is the day after 'National Signing Day' I am sure there will be some good conversation. The following week we will have our Family Night at Double Dave's. This is a new twist as we will meet at our traditional location in Round Rock (as well as the Muster meeting) and have a simultaneous satellite event at Double Dave's – Cedar Park (in the Railyard). On Thursday 18 Feb we will have our networking luncheon at BJ's Brewhouse – Round Rock, located in front of the outlet mall on IH-35. We are still finalizing our Howdy Hour event but look to try one of the many new micro-brew pubs in the area.
Gig'Em,
David A. Johnson '87
WCAMC President
president@wcamc.com
FEATURED NEWSLETTER SPONSOR
Dr. Frank Hinds '97