Weekly Event Reminder
The TAMU Yell Leaders will be in Fredericksburg on Sunday, July 24th to have a little yell practice!!!!
We are invited to join them for a potluck meal, photos with yell leaders, a raffle and live auction, and then yell practice in front of the Pioneer Memorial Library!!! Please see the event flyer below for all details.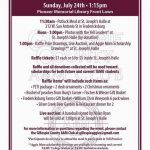 FEATURED NEWSLETTER SPONSOR