Howdy Ags,

We have had a slight taste of cool weather and with any luck it will be back by the weekend. CBS has picked up another Aggie game so we will kick off at Kyle Field at 2:30PM. As a bonus, ESPN college Game Day will be on hand as well. While we do not have a stellar record when they come to town but this is the year we can shake that up. As information, the GAME DAY set up will be in Spence Park, similar to SEC Game Day. Keep that in mind if that is your normal tailgate location. It will be a very lively atmosphere and plenty of fans on hand.

For those of you not headed to Aggieland this weekend, we will once again have our watch party, see below. We have had good turnouts and always more exciting to watch the game with fellow Aggies.
WilCo Amc Gnome on Facebook
Do you have trouble staying connected to our events on Facebook? If so, then you need to meet and become Facebook "friends" with our Gnome buddy WilCo Amc! Once you are "friends" then he will make sure you are invited to all our WCAMC events on Facebook. www.facebook.com/WCAMCEvents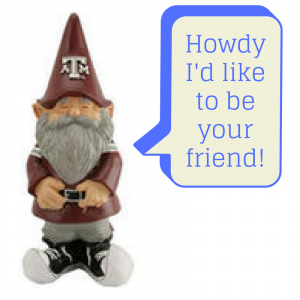 Get involved in the WCAMC
As we approach the end of the year we will be looking for individuals interested in serving on the WCAMC board for 2017. If you would like to be more involved and help move the club forward in a positive direction consider playing a bigger role. We will have officer and at large board positions opening up and would love to have you you join the team. Call/text 512-887-2247 orGigEm@wcamc.com
12th MAN FACILITY 'CLEAR BAG' POLICY
As a reminder, the 'CLEAR BAG' policy is for all venues. As you prepare to attend any event on campus soccer, volleyball, basketball you will no longer be able to take other bags into venues on campus.
AGGIE WATCH PARTY
Join us at HIGHER GROUND this week and watch the game with fellow Aggies. Plenty of TV's and sound as well. With a 2:30 kick-off it will be a great location to watch the game. Thanks to our partners at Lone Star Cafe/Higher Ground as they continue to adjust to the number of Aggies that fill the bar for games.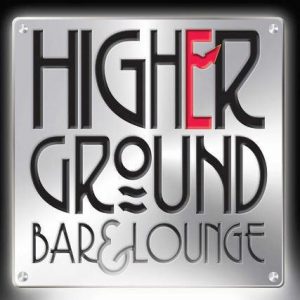 Aggie Baseball, Coach Johnson in Georgetown
The FCA Unity Lunch will be held this month with former A&M Baseball Coach Mark Johnson as the guest speaker! Be sure to mark your calendars, if you cannot make it to the Networking Lunch come support the FCA organization in Georgetown.
When: 11:30 a.m. Thursday, October 20
Where: Main Street Baptist (same room as last year)
Gig'Em,
David A. Johnson '87
President, WCAMC
WEEKLY EVENTS
See all our events on Facebook
Reveille Breakfast
The first Thursday of each month, we meet at Rudy's BBQ in Round Rock at 7:00am.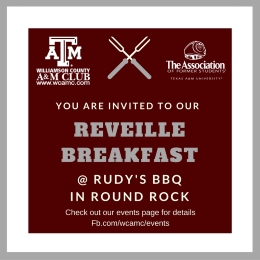 Family Night
The second Thursday of each month, we meet at Double Dave's in Round Rock & Cedar Park from 5:30pm to about 8:30pm.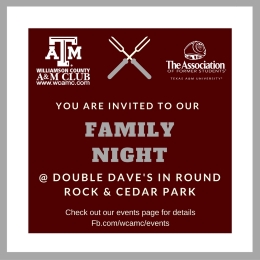 Networking Lunch
The third Thursday of each month, we meet at various locations each month, this month we will gather at Gino's Pizzeria in Round Rock. Be sure to check Facebook for the most current details.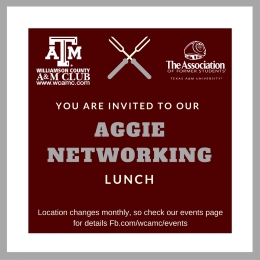 Howdy Hour
The fourth Thursday of each month, we meet at various locations each month, so be sure to check out our events on Facebook for the most current details.