In the event you have lost track of time, it is BAMA week and the Aggies will head into T-town to face the #1 ranked team. It has been a few years since 'lighting in a bottle' flashed itself in Bryant-Denny stadium, perhaps it is time once again?!?
For those of you headed to the big game we wish you safe travels and be sure to be loud!! I was fortunate enough to be in the stadium two years ago and the silence in the stadium after the quick Aggie start was amazing.
The cool weather is headed our direction and it will finally feel like fall 'football weather'.  There are plenty of other Aggie athletics as soccer and volleyball are in the heart of their season and basketball will kick-off right around the corner.
Get involved in the WCAMC
As we approach the end of the year we will be looking for individuals interested in serving on the WCAMC board for 2017.  If you would like to be more involved and help move the club forward in a positive direction, please consider playing a bigger role as part of our leadership team.  We will have Board Officer and at large Board positions opening up and would love to have you you join the team.
12th MAN FACILITY 'CLEAR BAG' POLICY
As a reminder, the 'CLEAR BAG' policy is for all venues.  As you prepare to attend any event on campus soccer, volleyball, basketball you will no longer be able to take other bags into venues on campus.
AGGIE WATCH PARTY: HULLABALOO HUDDLE
Join us at HIGHER GROUND this week and watch the game with fellow Aggies.  Plenty of TV's and sound as well.  With a 2:30 kick-off it will be a great location to watch the game.  Thanks to our partners at Lone Star Cafe/Higher Ground as they continue to adjust to the number of Aggies that fill the bar for games.
The New Mexico State kick-off time has been set for 6:30PM on Saturday 29 October.  We are checking with our partner Higher Ground regarding the watch party as they have a Halloween Party scheduled for that evening.  Please be sure to check our website/FB page for an update on that game.
Aggie Baseball, Coach Johnson in Georgetown
The FCA Unity Lunch will be held this month with former A&M Baseball Coach Mark Johnson as the guest speaker!  Be sure to mark your calendars, if you cannot make it to the Networking Lunch come support the FCA organization in Georgetown
When:  11:30 a.m. Thursday, October 20 at
Where: Main Street Baptist (same room as last year).
Networking Luncheon
Our monthly luncheon is scheduled this week at a new location, Gino's Pizzeria in Round Rock.  We hope you will take the time to join us and expand your local Aggie network.  This is a great opportunity to expand your contacts and look for new endeavors or as a chance to find quality employees that may be in search of.
Join Distinguished Alumnus David Eller
The WCAMC has been invited to learn more about stem cell research with CellTex Therapeutics CEO and Aggie David Eller.  If you have been interested in this quickly advancing technology, please RSVP to the event.  There is no charge for this informational meeting.
Berry Creek Country Club
7:00 PM Tuesday, October 25, 2016
2nd Floor Ballroom, 30500 Berry Creek Dr, Georgetown, TX 78628-1137
(View Map)
Support WCAM Mom's Club Turkey Dinner
The annual Turkey Supper Fundraiser has been a tradition for over 60 years and is the only fundraiser held by the Williamson County A&M Mom's Club.  All money raised is used to fund scholarships for students from Williamson County attending Texas A&M College Station. The club awarded twenty $500 scholarships in May 2015 and awarded an additional $1,000 spread between ten student organizations at Texas A&M.
Gig'Em, 
David A. Johnson '87 
President, WCAMC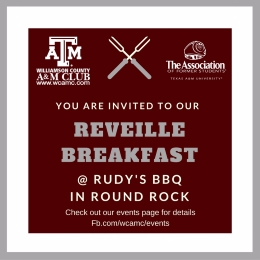 The first Thursday of each month, we meet at Rudy's BBQ in Round Rock at 7:00am.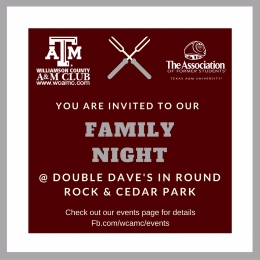 The second Thursday of each month, we meet at Double Dave's in Round Rock & Cedar Park from 5:30pm to about 8:30pm.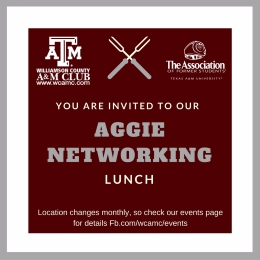 The third Thursday of each month, we meet at various locations each month, this month we will gather at Gino's Pizzeria in Round Rock. Be sure to check Facebook for the most current details.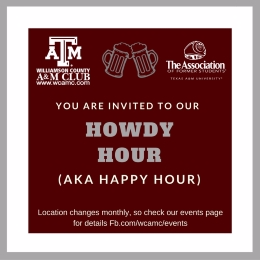 The fourth Thursday of each month, we meet at various locations each month, so be sure to check out our events on Facebook for the most current details.