Newsletter
January 4, 2017
Happy New Year to everyone.  I certainly hope the Holiday's were good to you and your families.  With any luck you have hit the new year with both feet on the ground and moving forward to a great year.  While it may take some of us a month (or two) to remember to write 2017 on documents or those archaic items called checks, it is always nice to step into a new year and what may lie ahead.
As the club will have our annual meeting on the 19th of this month we will usher in some new board members and offer a 'heartfelt' thank you to those who have served the club over the last year and will be stepping down.  Of course we can count on them to stay involved and continue to assist as we move forward.
Get involved in the WCAMC
As we approach the end of the year we will be looking for individuals interested in serving on the WCAMC board for 2017.  If you would like to be more involved and help move the club forward in a positive direction consider playing a bigger role.  We will have officer and at large board positions opening up and would love to have you you join the team.  We have two at-large board positions that will become available in January.  This is a great way to get involved and assist in the direction of the club.  These are 2 year terms and require just 4 meetings (once a quarter) throughout the year.  
Annual Membership Meeting
Our annual membership meeting has been set for Thursday 19 January at Gumbo's North – Georgetown.  Join us upstairs at the bar at 5:30 followed by the business meeting at 6:30.  We will have a special menu to order from so be sure to come by and join us.  More to come on that in the future but be sure to save the date.
We will continue 2017 with our weekly events where hopefully you can find something that fits both your time frame, as well as your interest.  Please also keep in mind that we are here to serve the members of our club, with that said we are always open to suggestions, ideas of other activities.  Just keep in mind, it may also allow you the opportunity to step up and volunteer.
The first Thursday of the month will be our Reveille Breakfast at Rudy's – Round Rock, where you can stop by on your way to work for a little social time and a great breakfast taco.  On the second Thursday we will continue our Family Night at Double Dave's.  Make plans to join us at either the Cedar Park or Round Rock location for great pizza rolls and a night where you do not have to cook.  On the third Thursday we will have our Networking Lunch.  Whether you are in the market for a new job or looking for exceptional candidates as new employees, this is a great opportunity to connect with other Aggies.  Finally, now that football season is over (a positive in many ways) we do not have any watch parties so we will resume our Howdy Hour on the fourth Thursday of the month. 
We look forward to seeing familiar faces and welcoming all the new ones to all of our club activities.  Remember to join our club page on Facebook so you can stay up to date with all that is going on around the county.
Other items of interest

January 10th: San Antonio Spurs Aggie Night
The San Antonio Spurs have partnered with Fox Sports to host a Spurs Aggie night here at the AT&T Center on Tuesday January 10th when the Spurs take on the Milwaukee Bucks led by former Aggie Basketball Star Kris Middleton. This will be a great event for all ages that will include several Aggie aspects throughout the evening beginning pre-game and extending through post-game with a meet & greet with Coach Gary Blair.
Every ticket purchased will include an exclusive Spurs hat, a food voucher, and access to post-game Aggie activities along with a portion from every ticket sold being donated back to fund an Aggie Scholarship.
Please spread the word to your local Ags as we hope to make this night truly special.
January 14th: Texas A&M Singing Cadets Concert
Date: Saturday, January 14, 2017
Location: Riverbend Centre, 4214 N Capital of Texas Hwy, Austin, TX 78746
Time: Reception and Reveille Raffle 6 PM & Concert 7 PM
Your generosity makes it possible for the Austin Texas A&M University Mothers' Club aka Austin Aggie Moms, a 501c3 organization, to provide scholarships to outstanding Texas A&M students from the Austin area. Our Merit Scholarships award thousands of tuition dollars to recipients each year and our club has funded two Texas A&M Foundation Endowed scholarships; the Opportunity Award and the Southerland Aggie Leader Scholarship. We will be beginning a third endowment this year for a scholarship for transfer students.
All proceeds benefit scholarships for Aggie students from the Austin area.
January 27th:Aggie 100 Luncheon – Austin
Save the date for one of the best Aggie alumni events of the year in Austin! Further details will be provided on through the 
CCAMC website
 and 
Facebook Page
!
January 28th: Aggie Entrepreneurship 2017  
Thanks for a great year, look forward to another successful year in 2017. 
Gig'Em, 
David A. Johnson '87 
President, WCAMC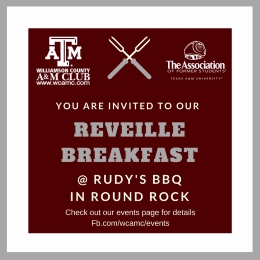 The first Thursday of each month, we meet at Rudy's BBQ in Round Rock at 7:00am.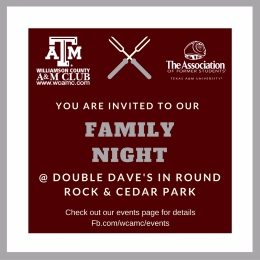 The second Thursday of each month, we meet at Double Dave's in Round Rock & Cedar Park from 5:30pm to about 8:30pm.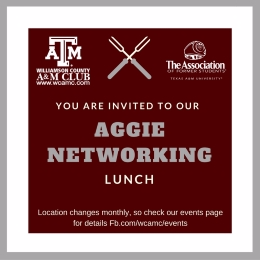 The third Thursday of each month, we meet at various locations each month. Be sure to check Facebook for the most current details.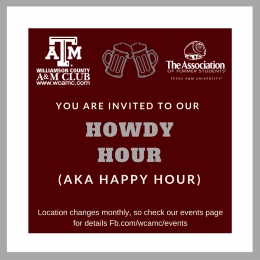 The fourth Thursday of each month, we meet at various locations each month, so be sure to check out our events on Facebook for the most current details.