Weekly Newsletter
Howdy Ags,
The end of the year is quickly approaching and Christmas is only 16 days away.  I need to finish my shopping, of course that means STARTING.  For those of you who are still attempting to wrap up your shopping as well we have a special link below that may be worth your time in checking it out.
The football team has been selected for the Music City Bowl so if you missed the first trip to Nashville this year you have a second chance.  The Association is partnering again with the local A&M Club for some festivities so be sure to check the Aggie Network if you are heading that direction.  May be a fun please to be for New Years Eve.
Hats off to the volleyball and soccer team for their success this year.  The volleyball team won 15 straight to close out the season and host the first round of the NCAA championship.  The program is certainly on the up swing.  The soccer team made it to the Elite for the second year in the row, despite having a large number of underclassman, and their future looks bright as well.
Here is whats happening around the area to close out the year:
YOUR SHOPPING CAN SUPPORT THE WCAMC
For those of you who enjoy the online approach to shopping as opposed to fighting the crowds, check out the link on our website.  We have partnered with AMAZONSMILE so that a portion of your purchase will be donated to the WCAMC.  There is no additional cost or anything for you to do other than log in.  A chance to support the club in an additional avenue without extra effort.  
tx.ag/AmazonSmile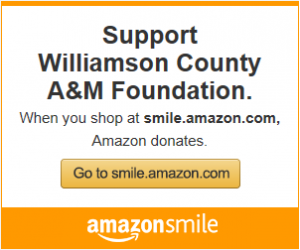 WCAMC BOARD OPENINGS
As the end of the year approaches we begin the process of transitioning our club officers and a few of our board members.  If you are interested in getting more involved and serving in some capacity please reach out and let us know.
We will have a board meeting in January in order to purpose a slate of nominees for the entire club to vote on at our annual meeting early in 2016.  It is everyone's club and we would certainly appreciate input from all members.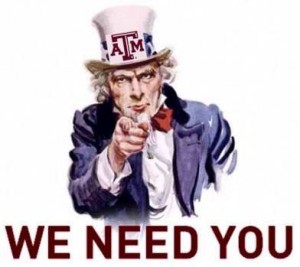 SAVE THE DATE, 9 DECEMBER – AUSTIN SEC CLUB EVENT


We have reserved NXNW on Stonelake in north Austin for the Holiday Party on December 9th, beginning at 6PM.  We are happy to announce that we will once again be benefiting Toys for Tots/US Marines at this event.  As an update, we have been informed by the US Marines that their request for assistance already exceeds that of last year.  Your help could make a huge difference for a family this year. We have a few items for the raffle, however, we need your help in making the raffle a success!  For every toy you bring you will receive one raffle ticket for some great prizes.  If you or your company would like to be recognized please consider a small gift basket or gift certificate for the event.  
https://www.facebook.com/events/816739778436983/
Thanks everyone and looking forward to this fun and charitable event!
WEEKLY EVENTS
To finish out the year we will have our Family Night at Double Dave's on Thursday 10 December.  Our networking luncheon next Thursday, 17 December, will be held at one of our most popular venues, Tortuga Flats. 
Be sure to sign up for auto notifications for all of our events.  This is a great feature to remind you about all of our events. 
From your WCAMC Board we wish you and your family a very Merry Christmas and a Happy New Year!
David A. Johnson '87
WCAMC President
president@wcamc.com
FEATURED NEWSLETTER SPONSOR
Dr. Frank Hinds '97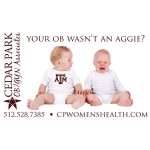 Silver Taps Notice
WILLIAM "KIM" BLAKEMAN '74
William "Kim" Blakeman, 64, of Georgetown, Texas passed away peacefully at home on Dec. 1, 2015 from complications of a stroke suffered in 2008. He is survived by his wife, Pamela D. Blakeman; three sons, Daniel F. (wife Carolyn), D. Sterling (wife Alisa), and Michael S. Blakeman; three grandchildren, Jordan, Carter, and Landon; and two sisters, Jane Schuelke (husband Jim) and Karen Blakeman.