Newsletter
November 8, 2016
We have moved into November and after starting last week feeling good about our football program we had a rude awakening on Saturday.  It was a rough trip to "StarkVegas" and the cow-bells got the better of the team.  Lets hope a return to Kyle Field can help to turn things around so that we can finish the season on a positive note.
For those of you not headed to the big game we wish you safe travels and be sure to be loud!! Remember, it is a 6:30PM kickoff and it appears there will be some pleasant fall weather to enjoy Aggie friends and tailgating before kick-off.
The cool weather is headed our direction and it will finally feel like fall 'football weather'.  There are plenty of other Aggie athletics as soccer and volleyball are wrapping up their season and basketball has started as well.
Get involved in the WCAMC
As we approach the end of the year we will be looking for individuals interested in serving on the WCAMC board for 2017.  If you would like to be more involved and help move the club forward in a positive direction consider playing a bigger role.  We will have officer and at large board positions opening up and would love to have you you join the team.  We have two at-large board positions that will become available in January.  This is a great way to get involved and assist in the direction of the club.  These are 2 year terms and require just 4 meetings (once a quarter) throughout the year.
Our annual membership meeting has been set for Thursday 19 January at Gumbo's North in Georgetown.  More to come on that in the future but be sure to save the date.
TAMU Clinical Learning Resource Center
The Clinical Learning Resource Center (CLRC) at Texas A&M Round Rock trains and educates students to address the shortage of nurses and physicians alongside the needs of the health workforce throughout Texas. We are seeking participants to portray patients for our standardized patient program. Schedules are flexible and participants are compensated for their time.
For more information please visit our website at www.tamhsc.edu/clrc/ or feel free to contact Tammy Hayes, Simulation Coordinator at 512-341-4952.
AGGIE WATCH PARTY: HULLABALOO HUDDLE
Join us at HIGHER GROUND this week and watch the game with fellow Aggies.  Plenty of TV's and sound as well.  With a 6:30 kick-off it will be a great location to watch the game.  Thanks to our partners at Lone Star Cafe/Higher Ground as they continue to adjust to the number of Aggies that fill the bar for games.
SEC Christmas Party
Save the date as we once again team up with the local Marines and their support of 'Toys-for-Tots'  We will be gathering for a night of fun and support of local children in the Austin area.  There will be raffle drawings for great gift baskets as well to assist in your own Christmas shopping needs.
When:  5:30PM Thursday, 8 December
Where: North by Northwest (NXNW) – Austin
Gig'Em, 
David A. Johnson '87 
President, WCAMC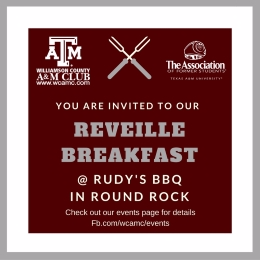 The first Thursday of each month, we meet at Rudy's BBQ in Round Rock at 7:00am.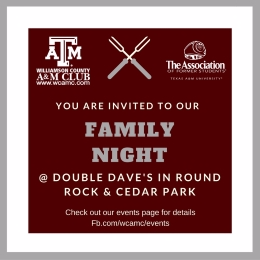 The second Thursday of each month, we meet at Double Dave's in Round Rock & Cedar Park from 5:30pm to about 8:30pm.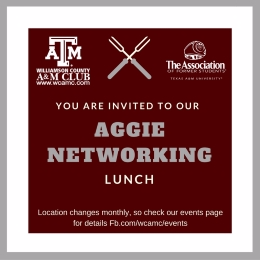 The third Thursday of each month, we meet at various locations each month. Be sure to check Facebook for the most current details.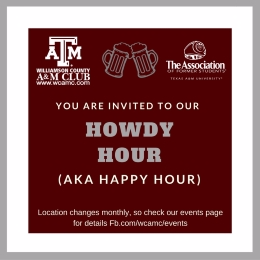 The fourth Thursday of each month, we meet at various locations each month, so be sure to check out our events on Facebook for the most current details.