Newsletter
November 29, 2016
Hard to believe we are heading into December and there are only 27 shopping days left before Christmas.  Perhaps between "Black Friday", which for many of us brought on an entirely new definition after the game, but I digress; and "Cyber Monday" you were able to get a jump on all of those purchases.
We are moving into basketball season, none too soon, Coach Blair and the Lady Aggies have certainly started on a hot streak to kick things off.  The men's team made it to the final game before being outscored by UCLA in their Thanksgiving tournament.
We will have three of our monthly activities this month starting with Reveille Breakfast this Thursday (1 December), Family Night at Double Dave's next week (8 December) and close with our Networking Luncheon on 15 December.  We will not have a Howdy Hour this month so be sure to join us for the SEC Toys-for-Tots event on Thursday 8 December.
Get involved in the WCAMC
As we approach the end of the year we will be looking for individuals interested in serving on the WCAMC board for 2017.  If you would like to be more involved and help move the club forward in a positive direction consider playing a bigger role.  We will have officer and at large board positions opening up and would love to have you you join the team.  We have two at-large board positions that will become available in January.  This is a great way to get involved and assist in the direction of the club.  These are 2 year terms and require just 4 meetings (once a quarter) throughout the year.
Our annual membership meeting has been set for Thursday 19 January at Gumbo's North in Georgetown.  More to come on that in the future but be sure to save the date.
SEC Christmas Party
Save the date as we once again team up with the local Marines and their support of 'Toys-for-Tots'  We will be gathering for a night of fun and support of local children in the Austin area.  There will be raffle drawings for great gift baskets as well to assist in your own Christmas shopping needs.
When:  5:30PM Thursday, 8 December
Where: North by Northwest (NXNW) – Austin
SEC Christmas Party
This weeks Club event is Reveille Breakfast at Rudy's BBQ in Round Rock.  It's a great time for a breakfast taco and Aggie comradery!  Things get kicked off at 0700, so make plans to join us for this final breakfast of 2016!
Gig'Em, 
David A. Johnson '87 
President, WCAMC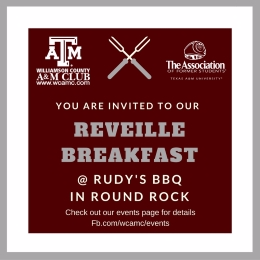 The first Thursday of each month, we meet at Rudy's BBQ in Round Rock at 7:00am.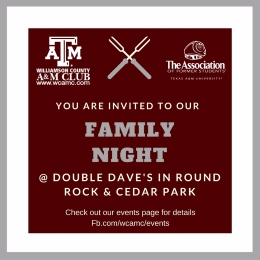 The second Thursday of each month, we meet at Double Dave's in Round Rock & Cedar Park from 5:30pm to about 8:30pm.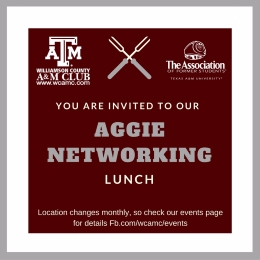 The third Thursday of each month, we meet at various locations each month. Be sure to check Facebook for the most current details.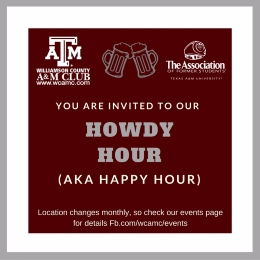 The fourth Thursday of each month, we meet at various locations each month, so be sure to check out our events on Facebook for the most current details.